Lidia - Day 28 - Wednesday, December 25, 2019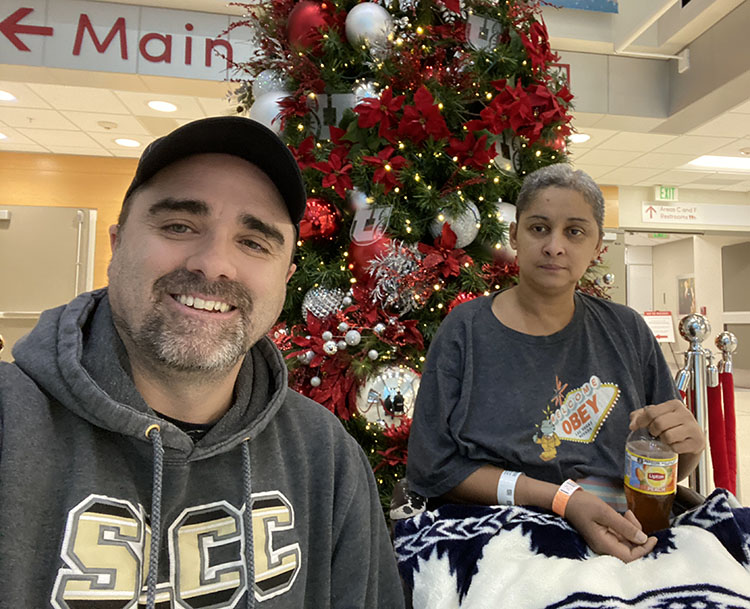 Lidia - Day 28 - Wednesday, December 25, 2019
Highlights - Christmas Day
Hospital Adventures
Rest
Visitors
Opening Presents
Hospital Adventures
Lidia and I got into our Christmas pajamas, hopped onto her ride and explored the hospital. We can get to the Huntsman Cancer Institute and Primary Children's Hospital through elevators, tunnels, and bridges without going outside. We only got in trouble once when going places where we weren't allowed. We really didn't get in trouble, we just pretended we were lost and were redirected into going a different direction. We were out of the room for about 2 hours. She seemed to have a good time.
Rest
We spent the rest of the afternoon sleeping while watching TV until we had our visits.
Visitors
Tori and her husband, Jacob, came to visit again today. Tori noticed that Lidia's hands and feet were dry yesterday. I was lectured that I wasn't doing a good job at making sure Lidia's hands and feet were moisturized. So today, Tori came back today with some lotion for Lidia. I still haven't put the moisturizing cream on her feet.
Bishop Hardy and his wife came to visit us today. They spent a few minutes here and talked to us.
Katherine, Zach, and the kids came later this afternoon and brought gifts. They left the heavy ones that I purchased for Lidia at home. All the ones that were left at home were for Lidia's truck. She's going to have to wait until she gets home to open them.
Opening Presents
Lidia surprised me with a gift. The only way that she could have done this is to purchase it before Thanksgiving day. She bought be some apple earpods. These things are freaking amazing. She smiled as I saw them. She knew that I've been wanting a pair.
Katherine got Lidia a new iPhone. It's an older version but still does face id so it will be great for Lidia not to have to push buttons or enter in her code to unlock it.
Merry Christmas everyone. Today was a good day. Tomorrow is another day of rehab.
Comments
---
Add comment