Lidia - Day 35 - Wednesday, January 1, 2020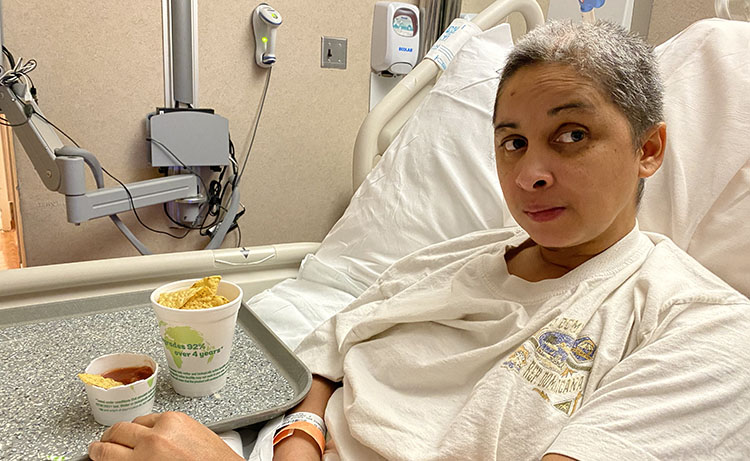 Lidia - Day 35 - Wednesday, January 1, 2020
Highlights
Thought of the Day
Rehab
Anxiety
Thought of the Day
Happy New Year! Even though circumstances kinda suck, Lidia is making improvements. The year 2020 is going to be a year of recovery, adventure, and thankfulness.
Rehab
Breakfast Club - 8:15 am
Occupational Therapy - 9:00 am (45 min)
Physical Therapy - 9:45 am (45 min)
Occupational Therapy - 11:15 am (45 min)
Lunch at the Cool Kids Table - 12:00 pm
Speech Therapy - 1:00 pm (45 min)
Physical Therapy - 1:45 pm (45 min)
Anxiety
Today I experienced for the first time with Lidia a panic attack. It was the weirdest thing. One minute we are in our speech therapy session reading words on the board and the next minute Lidia is freaking out. Breathing really fast, acting funny. I wheeled her back to her room where we were able to calm her down. Once she was calmed down, she was wiped out tired.
Later that evening, I took Lidia on a stroll and it started happening again. We got down the hall and she gets all excited/scared and asked to go back to the room. I'm not sure what's going on with that, but we are going to talk to the doctors in the morning. This isn't normal for her to have anxiety.
I sang her to sleep tonight. It felt good.
Comments
William Barrus
Maybe the panic is accumaletions of all the frustrations of the things can't do but thinks she should be able too.
William Barrus
In my own experience it was people telling me all the things i cant do. I climbed the ladder and got on the roof anyway.
---
Add comment