Lidia - Day 37 - Friday, January 3, 2020
Lidia - Day 37 - Friday, January 3, 2020
Highlights
Thought of the Day
Rehab
Field Trip
Getting Ready to Go Home
Construction Is Starting
Silver Lining
Thought of the Day
This hospital is creepy.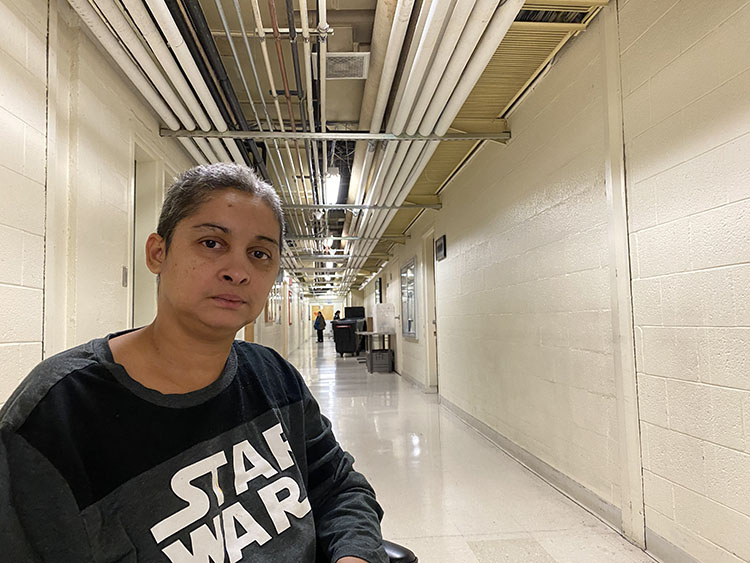 Lidia wanted some tea. She had a hard time communicating what she wanted, so we got into the wheelchair and at every junction, she directed me where to go. Once she found it, she pointed to the vending machine. She looked and pointed to the tea but not that kind of tea she wanted. Now that I knew what she wanted, I knew where to go. At the first elevator we found, I hit the button to Level A where the cafeteria was. When the elevator doors opened, I was a little creeped out. It was like we were transported back in time to a creepy haunted hospital movie. Visible pipes. Weird sounds. Equipment that has seen better days (or years). We survived though and found the cafeteria (and the tea) unscathed.
Rehab
Breakfast Club - 8:15 am
Speech Therapy - 9:00 am (45 min)
Occupational and Physical Therapy - 9:45 am (2 hrs 30 min)
Lunch at the Cool Kids Table - 12:00 pm
Phych Eval - 1:45 pm
Education Class - 3:00 pm (45 min)
Field Trip
We were given the opportunity to go on a field trip today. They gave us a choice of where we wanted to go with a few suggestions. We could go out to eat, we could go to the natural history museum. We knew that our discharge date was coming soon, so at first I said that we wanted to go grocery shopping since we haven't been home for over a month. I'm pretty sure that what we had in our fridge has been thrown out or needs to be thrown out.
A couple of days ago, we were rearranging our small living room so that Lidia could navigate better and needed to get rid of the bulky couch that was already too big for the space that it was in. Now that we didn't have a couch, I needed to get something more suitable for Lidia. Something comfortable. Something functional. Something awesome. So, we chose to go to RC Willey to get a new couch. I think Lidia made a good choice.
During our field trip, I practiced with Lidia getting in and out of vehicles. We practiced going to the bathroom in public bathrooms. Lidia even did a power walk as we walked around the showroom to find the perfect love seat.
Getting Ready to Go Home
The rest of the day was pretty much a checklist for all of the therapists to come and go over anything that they may have missed and to give us support for our future endeavors.
Just so we don't forget, here is a list of people that have definitely touched our lives here in the hospital.
Lilly - Nurse - Nuero Intensive Care
Chloe - Nurse - Nuero Acute Care
Justin - Nurse - Nuero Acute Care
Tyson - Occupational Therapy - Nuero Acute Care
Gabe - Occupational Therapy - Medical Rehab
Casey - Occupational Therapy - Medical Rehab
Devyn - Occupational Therapy - Medical Rehab
Nate - Physical Therapy - Medical Rehab
Tyler - Speech Therapy - Medical Rehab
Elena - Speech Therapy - Medical Rehab
Shannon - Physical Therapy - Medical Rehab
Pablo - Physical Therapy - Student - Medical Rehab
Emee - Nurse - Medical Rehab
Dr, Ingram - Medical Rehab
Liz - Brain Education - Medical Rehab
Construction is Starting
I received this picture via text stating that construction can start a day early. It has begun. I tried explaining to Lidia that she will be going home to a construction zone . 4 doors are being replaced so that her wheelchair will be able to navigate into the house from the garage, into the main bathroom, into the master bedroom, and into the master bathroom. It is amazing to me how people have pulled together to help make Lidia more comfortable. The door construction is being done by Pentalon Construction where Lidia worked.
The doors that are being installed are full-size wheelchair doors. We are going to need to do some clean up with the tile and flooring to get things to match again.
Silver Lining
I signed some paperwork for Lidia to get a handicap parking tag for the vehicle. ROCK STAR PARKING!!!!
Comments
William Barrus
That Rock Star parking is over rated. I have the same tag, there are a lot of rok stars our there and most of the slots are full when Celeste drives up looking for one
---
Add comment