Lidia - Day 38 - Saturday, January 4, 2020
Lidia - Day 38 - Saturday, January 4, 2020
Highlights
Going Home
Construction
Sleeping
Going Home
We got discharged today. Excited and scary all at the same time. Lidia couldn't stop smiling on our way home.
The morning, however, seemed to drag on. We had to be checked out by the doctor, by the pharmacist and our nurse. It was like Christmas Eve waiting for Santa. Watching the clock seems to only make it go slower. Finally, everybody came and checked us out. Our nurse told us that there was one other person that needed to be there and that was the 'transport' person. His/her job description was to help patients carry their belongings to their cars. The one individual that has no sense of urgency. I had already packed up Lidia's room, the Jeep was loaded, and there was only one stop to make and that was the pharmacy to get our prescriptions. We waited what seemed like forever for this transport person to show up. I was content, but Lidia was anxious.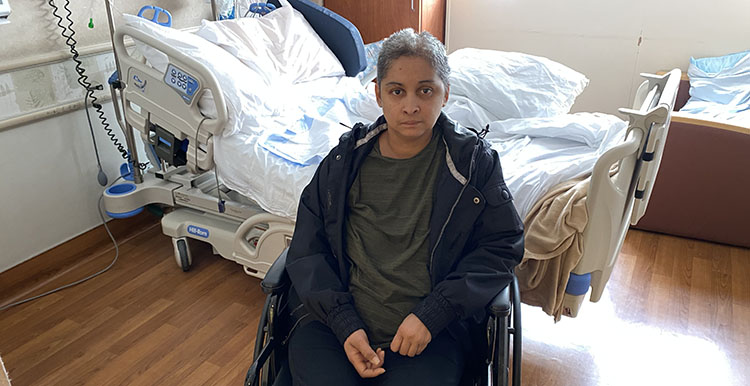 "Vaamonos", she said. Literally said it. Who was I to argue? We bugged out. So, for the transport person who was supposed to take us to our car, Sorry. Not sorry. You snooze, you lose.
We were successful in doing our first solo vehicle transfer from wheelchair to the seat of the vehicle. We still need some practice. It would help if I had a taller step. Live and learn. I still need practice driving a wheelchair as well.
Construction
Lidia came home to construction happening at our house. A couple of guys from Pentalon Construction were there widening some doors. They had cut and hung a door to the bathroom already and were working on cutting and hanging a new door for the master bedroom. We can now fit Lidia's wheelchair into the bathroom which is a lifesaver. Our main bathroom door was an odd size, so they are picking it up special order on Monday and will be back to hang that one next week. The only thing that we need to do now is paint. It was amazing. Every time I tell the story it makes me appreciate the good (I get choked up). They didn't want anything in return except for Lidia to get better and be able to return to work.
Sleeping
Lidia is sleeping in her own bed tonight. Katherine rearranged our bedroom while we were at the hospital. Lidia has to sleep on the right side of the bed so the room was arranged to accommodate that and have enough room for the wheelchair. Our bed, however, needs some help. It is too high. I have to lift Lidia into bed and it is kinda a pain. We'll have to do some modifications to the bed soon.
Comments
---
Add comment