Lidia - Day 41 - Tuesday, January 7, 2020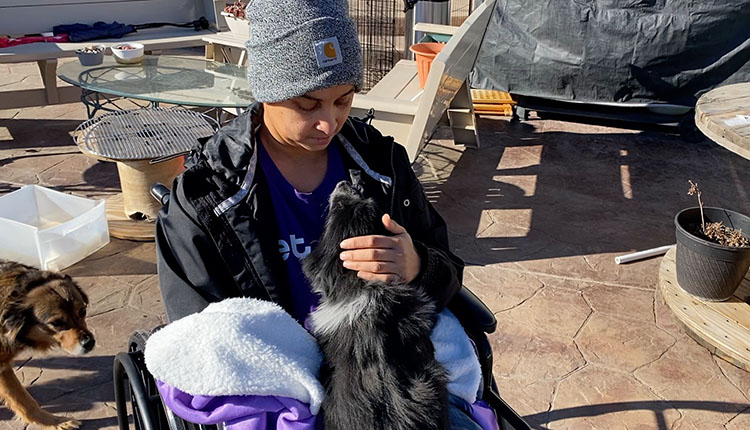 Lidia - Day 41 - Tuesday, January 7, 2020
Highlights
Thought of the Day
Going Outside
Occupational Therapy
Eating
Thought of the Day
Folding a fitted sheet is damn near impossible!!
I've seen Lidia do it hundreds of times. She was actually watching me do this and shaking her head with a smile at my frustration. For those of you who want to know, here are the steps that I followed to figure this out.
HOW TO FOLD A FITTED SHEET IN 9 SUPER-EASY STEPS
Grab two corners of your fitted sheet, lengthways.

Flip your sheet inside-out.

With the elastic facing you, insert your hands into both corners.

Place the right-hand corner of your sheet over the left-hand corner, flip.

Swap your hands, reach down, pick-up the equal corners on the opposite side, straighten.

Again, fold the right-hand corner of your sheet over the left-hand corner to form an l-shape, rotate 90°. Note: all corner seams should now be on the one hand.

Find a flat surface, lay your sheet down.

Fold the messy edge inwards, twice, towards you.

Fold into thirds again – voila!
This is all black magic if you ask me. something that isn't square ends up square when finished. So, next time somebody says something is impossible, tell them to try folding a fitted sheet. It all works out in the end.
Going Outside
This was our first time going outside. Lidia was able to spend time with the dogs while I picked up dog poop. We then took a stroll around the neighborhood so that we didn't have to go back into the house just yet. It was a good stroll.
Occupational Therapy
We had a visit from our new occupational therapist. She caught us as we were coming home from our morning walk.
Eating
Lidia definitely has her appetite back. During physical therapy, I was reminded to have Lidia do as much as she can on her own even though it may seem inefficient.
Comments
William Barrus
sometimes it is not only inefficient, it's dowhright pathetic, and it's really hard not to help.
---
Add comment