Lidia - Day 58 - Friday, January 24, 2020
Lidia - Day 58 - Friday, January 24, 2020
Highlights
Fever
Melons
Outpatient Therapy Scheduled
Speech Therapy
Sleep
Mood and Health
Fever
Last night at 10 pm, I gave Lidia some prescribed Tylenol. There is some fancy medication name for it, but I can't remember it (or spell it). One of those that say 2 tables by mouth every six hours as needed. Ugh, she hates taking pills. But, I knew she wasn't feeling good when she suggested that she take some.
Throughout the night, I continued to check her temperature. 99-100. However, when I checked this morning at 6:00 am, it was 101.2. I gave her some more of the fancy Tylenol and messaged her doctor with an update. At 10:00 am, I checked again and her temperature was normal. I don't know if it was the medicine or whether Lidia was feeling better.
At noon, her temperature was 99 degrees. I asked if she wanted some more Tylenol since our six hours were up and she declined.
At 5:00 pm, her temperature was back up to 100.5. She agreed to take some Tylenol. If this continues through the night, I'm going to have to take her to the doctor tomorrow.
Melons
By about noon, Lidia has consumed about 4 cereal bowls of melons. (watermelon, cantaloupe, honeydew.) I threw in a few slices of apple just for the fun of it. She didn't seem to happy about the apples.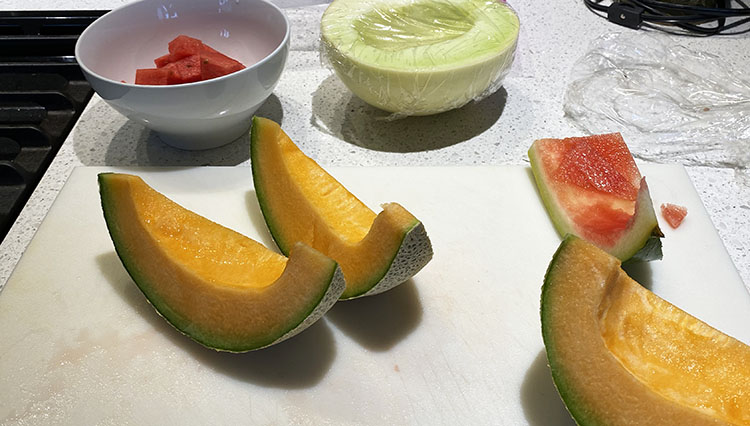 Outpatient Therapy
We've officially got outpatient therapy approved and scheduled to start in two weeks.
Speech Therapy
Our speech therapist came in today and noticed that Lidia wasn't doing too well either. She did some quick vitals while Lidia was sleeping. Her heart rate and oxygen levels are fine.
Sleep
Lidia has slept for most of the morning and afternoon. I sit by her side of the bed working throughout the day on my computer while making sure she's doing ok.
Mood and Health
With Lidia having a fever (and along with that, chills) her activity level and her mood level was about al 2.

Add comment