Lidia - Day 59 - Saturday, January 25, 2020
Lidia - Day 59 - Saturday, January 25, 2020
Highlights
Fever Still
Trip to Urgent Care
Jaunt to Emergency Room
Paranoid
Mood
Fever Still
At 3 am Lidia still had a fever of 100 degrees. She had no problem eating melons, though, which was the reason we were up at 3 am. I gave her some prescribed Tylenol to get the fever down in hopes that it would stay down
At 6 am, her temperature was normal when I checked her temperature before taking care of the dogs
Trip to Urgent Care
We started our day at around 9 am. Ate a breakfast of pancakes. Again, no problem eating.
At 10 am, I checked her temperature again and it was back up to 100 degrees. The Tylenol seems to be wearing off. I'm starting to get prepared to take her to urgent care by this time since things aren't getting better. Before we leave, she requests a bowl of watermelon.


Once finished, I check her temperature again...101.1. Time to go. We kid up the Jeep and head out.
We get to Urgent Care of Utah Health (University of Utah Hospital) in Daybreak where they do a quick assessment. At which time they tell us that they aren't equipped to do all of the tests that Lidia needs. Part of the same building complex is the emergency room, so we get wheeled over to the ER.
Jaunt to Emergency Room
it was literally, just a stroll from Urgent Care to the Emergency Room. We didn't even leave the building.
Blood was drawn. Urine was taken. X-ray completed. Lidia's temperature is still 101.something. Now we sit and wait.
Results of tests taken came back as 'unremarkable'. Her white blood count is higher than normal as if fighting off an infection, but that's it.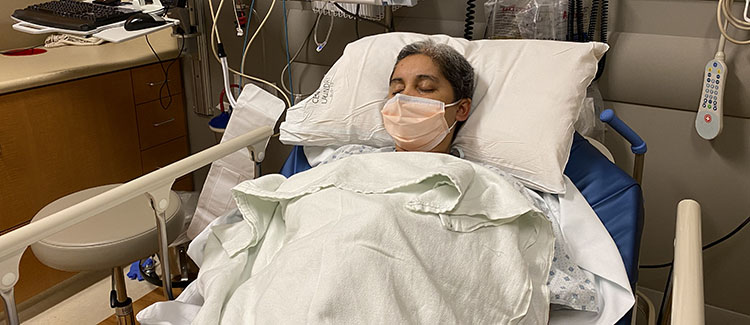 They don't want to send us home just yet. One more test and that is a CT scan of her chest. This could just be a severe common cold without the sniffles. They just want to rule out pneumonia.
Paranoid
Maybe I'm overly paranoid or maybe I know that Lidia has been through a lot and I don't want her to go through anything else.
They sent us home with a "let's see what happens over the next couple of days".
Lidia went to bed with a fever, but it wasn't 101 degrees. It seems to be slowly going down. Thankfully.
Mood
Overall, I think Lidia's mood could be described as a two. Aches and pains, fever, hospital visit, chills. All around yucky.

Add comment